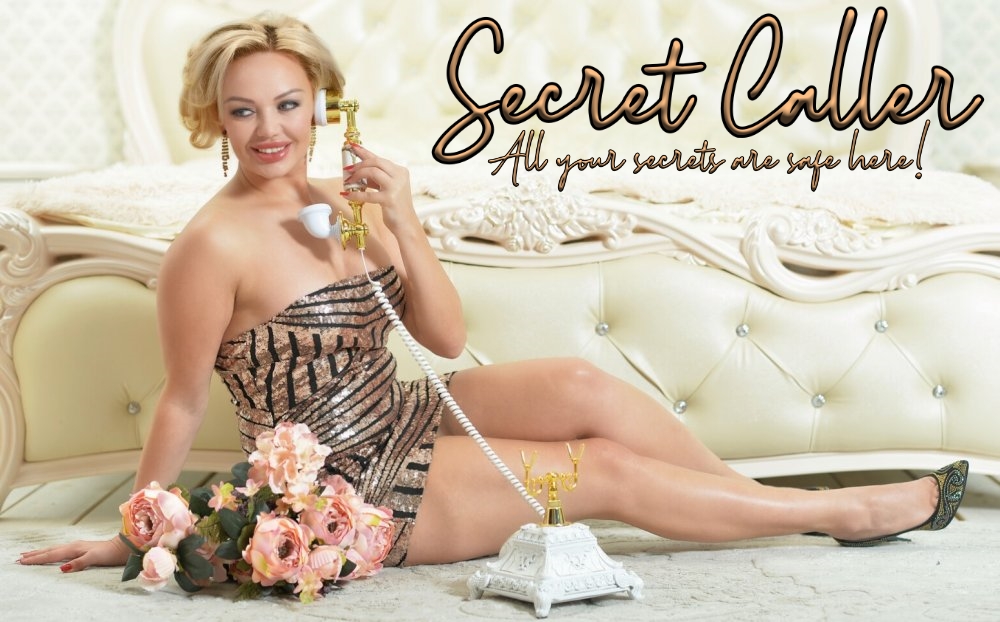 Phone Sex at SecretCaller.com offers you $10 Phone Sex that is totally Secure, Private, and Discreet. Adult Phone Sex Fantasy and Roleplay Sessions for cheap prices without skimping on the Quality. We offer $10 Phone Sex Therapy Sessions, we provide $10 Phone Sex Escort Sessions, and regular $10 Phone Sex Calls. There are many ladies to talk to from all over the United States. All types of dirty phone chats can be explored during a one-on-one personal phone sex call. It's intimate, fun, and erotic.
What kind of man are you? Do you want to have dirty sexual experiences online but maybe porn isn't doing the job for you anymore. Photos? That's just too old school. Webcam sessions all seem the same? Phone Sex never goes out of style because it's intimate, it requires creativity, it relies on personality and erotic sounds.  A conversation never goes out of style, and with us, you can discuss anything you'd like. There are no limits and no taboos on calls.
Phone Sex is a private conversation between 2 consenting adults whose intent is to arouse, tease, and stimulate the mind and body. An orgasm (for both parties preferably) is the happy ending to an erotic story. Phone sex can be described as a guided masturbation fantasy, a sexual exploration, the sharing of fantasies, or an interactive erotic audio fantasy. The conversation can run from explicit and hardcore…. to erotic and sensual.
Phone Sex stimulates the excitement of the forbidden, and it's the safest sex you can have in this day and age. It also may be the most honest type of sex too, because people can ask for exactly what they want without inhibitions. Fantasies obviously occur in the mind and are accompanied by the thought of something or someone in particular in order to stir our passions. Fantasies are harmless indulgences into our desires that sometimes wouldn't/can't be satisfied in the real world. Phone Sex enhances anyone's fantasies and masturbation.
People who do not have a regular sex partner may find the interaction of phone sex to be an exciting change from solo masturbation. It's like taking a quiet personal fantasy one step further by sharing it with someone else. The presence of another person at the other end of the line provides another dimension to fantasy, and that can significantly enhance the experience. What differentiates cybersex from phone sex, fantasy, or even pornography? When you boil it all down, there really is no difference at all. Acceptance, open-mindedness, understanding, fantasy, sharing, communication, feeling connected, fun, and even learning something new… is what phone sex is about.
Phone Sex
Pay By Phone
Pay Online
Phone Sex



1-888-310-7678
Only $10 for a 5-Minute Quickie
then $2.00 per minute after.
*We do not accept Prepaid Gift Cards
You must be 18+ years old to call
Pay By Phone

All billing is done by phone with an Automated system. When you call you to listen to the brief Preamble and then enter all of your own credit card details. This prevents human error and keeps all of your information safer than giving it over to a live person. The procedure is painless. Once you have entered all of your information our system will recognize you in the future by your telephone number. 
You can add as much in funds as you'd like. Some clients limit what they spend by adding funds on each call. Others add $100 or $200 and then do multiple calls in a month. This is more discreet for clients who do not want 7 different charges on their bill that a significant other may notice. You never lose your funds. They remain in your account until you use them for a call!
Pay Online

Some callers prefer to pay online and this is very easily done with our system. Again, it's quick and painless and you control what you spend. You can add as much in funds to your account as you'd like. Add $100 and then deduct each call from that because you never lose your money. It remains in your account until you use it. Or add small amounts and have full control over what you spend!
Signing up online has more benefits because you can easily see your spending report! You can save certain ladies as your favorites, you can leave feedback on your call, and you can also email girls in your account for FREE.